Marking Fry and Fingerlings
Introduction
Ideally stocked sturgeon should be marked in order to tell them from those spawned naturally in the wild.
Recapture of marked sturgeon allows assessment of the effectiveness of the stocking program.
The smaller the sturgeon are, the more difficult it is to mark them.
A satisfactory marking technique for all sizes has yet to be found so the SRSMB continues to conduct marking research.
Oxytetracyline (OTC)
Fry of other fish species can be marked by immersion in special chemical solutions. The chemical is permanently deposited in the bones of the tiny fry and can be seen years later if the bones are examined with a special microscope.
Unfortunately, lake sturgeon fry have very little bone and this marking technique did not work in trials conducted by the SRSMB.
Coded Wire Tags (CWT)
Fingerlings can be marked using tiny coded wire tags, about the size of a fine pencil lead.
The SRSMB conducted trials in 1999 and 2000 when CWTs were implanted in several hundred sturgeon fingerlings. There were no mortalities or tag losses while the fingerlings were held over the following winter.
Unfortunately, this method of tagging is time consuming and expensive and is not externally visible. The person catching a sturgeon requires a special electronic device to detect the CWT.
Visible Implant Elastomer (VIE)
In 2006 the SRSMB conducted marking trials using Visible Implant Elastomer
VIE was injected beneath the skin where it was easily visible.
The test fish are being held in a hatchery to see how long the mark remains visible.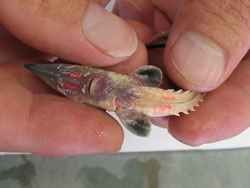 Scute Removal
Also in 2006 trials of marking by removal of scutes were conducted.
Particular pairs of scutes can be removed to indicate year of stocking.
Like CWT and VIE marking, scute removal is time consuming and delicate work.